Qualifier 1, Guyana, September 21, 2023, 04:30 AM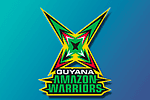 Trinbago Knight Riders beat Guyana Amazon Warriors by 7 wickets
Best Batsmen
R
B
4S
6S
SR
Man of the Match
Chadwick Walton
Right then, that's all from this game. Trinbago Knight Riders have become the first finalists in this year's Caribbean Premier League. We will have a day's break now before the playoffs action resumes on September 23 with Qualifier 2 between the Guyana Amazon Warriors and the Jamaica Tallawahs for a place in the final. The game will commence at 4.30 am IST (11.00 pm GMT, the previous day), but you can join us in advance for the build-up. Until then, take care and goodbye!
Trinbago Knight Riders' captain Kieron Pollard says that proper planning helped them well. Adds that the backroom staff did a commendable job and worked well for us. Shares that the bowlers came well together and credits them entirely for the effort. States that the Warriors were 20-25 runs short and getting off to a good start helped them chase with ease. Adds that they want to enjoy the win today and think about the final later on. Closes by saying that the fans have been amazing and thanks to them, want to continue putting smiles on their face.
Romario Shepherd is standing in for Guyana Amazon Warriors' skipper Imran Tahir who is nursing an injury. He says that Trinbago Knight Riders bowled well and feels that they were 20 runs short. Feels that they could have defended this total, if not for the dropped chances. Mentions that it was the captain's plan to leave Odean Smith out of the bowling attack for this game. Shares that they are still confident about the next game against Jamaica Tallawahs.
Chadwick Walton is the Player of the Match for his unbeaten match-winning knock of 80 runs from 57 balls. He starts by thanking the coaches and players for backing him. Adds that it has been an emotional fifty and kudos to the team for giving him the opportunity. Closes by saying that it will get better once we win the final.
Time for the presentation ceremony...
Earlier in the game, after being asked to bat first, the Guyana Amazon Warriors were off to a measured start. Both Saim Ayub and Odean Smith had luck going their way but did a decent job to not lose their wickets in the powerplay. With the arrival of slower bowlers, the boundaries dried up, which meant that the Warriors' innings meandered during the middle phase. Just when Ayub was beginning to find the top gear, Waqar Salamkheil foxed him, falling short of fifty by a solitary run. At that point, the Warriors needed impetus to their innings, which was provided first by Azam Khan and then Romario Shepherd. Towards the end, Gudakesh Motie's quickfire 8-ball 19 helped his side cross the 165-run mark. Waqar Salamkheil was the pick of the bowlers for the Trinbago Knight Riders, and he had two wickets to his name.
Despite their best efforts, the Guyana Amazon Warriors have fallen short but will have one more shot at reaching the final in Qualifier 2. Having finished on a high with the bat, it seemed like the Warriors would take the momentum into their bowling effort. It wasn't to be, as their new ball bowlers failed to keep the Knight Riders batters in check, nor were they able to get early breakthroughs. Skipper Imran Tahir provided them with a much-needed breakthrough off his very first ball but found no support from the other end. The Warriors did sense an opening with the wicket of Nicholas Pooran, but Chadwick Walton had other plans as he batted through to get the job done for his side.
Trinbago Knight Riders are through to the final of the 2023 Caribbean Premier League! An outstanding batting effort by Chadwick Walton has taken the Knight Riders to their fifth Caribbean Premier League final. In their pursuit of 166, the Trinbago Knight Riders were off to the best possible start. Mark Deyal had a short but breezy stay, but his opening partner, Chadwick Walton, along with Nicholas Pooran, took the innings forward. Neither Walton nor Pooran got bogged down and kept the scoreboard ticking and by doing so, they ensured that the Knight Riders had the required run rate in check. After Pooran's departure, Walton took the game by the scruff of the neck and went into overdrive on the way to his first fifty of this year's competition. Walton remained unbeaten on 80 and took his side over the line with 11 balls to spare.
18.1
1
Trinbago Knight Riders are into the FINALS! Googly on the middle and leg. Walton hangs back and eases this to long-on for a single. A thumping win by 7 wickets and with more than 10 balls to spare.
In over# 18
1
4
1
1wd
1wd
0
0W
4
Dwaine Pretorius 36/2(4)
17.6
1
Slower length ball, outside off. Walton slaps it to sweeper cover for one. Scores are level now.
17.5
4
FOUR!! One bounce and over the ropes! Slower and fuller, outside off. Walton swings hard and lifts it down to the long-off region. Odean Smith comes running in from the boundary and misjudges it completely. The ball goes over him for a boundary.
17.4
1
Length, outside off. Russell slaps it to long-off for one.
17.4
1wd
WIDE! Slower and wider outside off. Russell lets it go. Another Wide.
17.4
1wd
WIDE! Fuller and wider outside the tramline. Russell swings hard and misses. Wide signaled.
17.3
.
Good length delivery on off. Russell hangs back and blocks.
Andre Russell is the new man in.
17.2
W
OUT! BOWLED'EM! Dwaine Pretorius has two! Good length delivery angling in around off. Pollard swings hard to hoick it away but gets an inside edge that crashes into the stumps. Pollard departs with Trinbago Knight Riders needing just 9 to win.
17.1
4
FOUR! Full-length delivery angling into middle and leg. Pollard gets across and whips it with disdain to the deep mid-wicket region for a boundary.